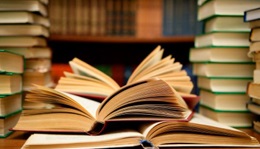 Words of the People: Beth Piatote
Words of The People is an Indigenous Language Creative Writing Workshop with craft talks and readings in Tulsa, Oklahoma funded by the Tulsa Artist Fellowship and the Interchange Art Grant from the Mid-America Arts Alliance. The Native Arts and Cultures Foundation also supported the development of this gathering, which serves as an expansion of Chelsea Tayrien Hicks' Words of the People classes offered through IAIA's Continuing Education in the past. Words of the People is a four-day gathering centering creative writing workshops for indigenous language writers to develop their work through instruction in a genre of their choice: poetry, prose, or translation. The workshops take place at the Tulsa Artist Fellowship's Archer Studios, 109 North M.L.K. Jr Blvd, in downtown Tulsa, Oklahoma every morning Oct. 26-29, 2022 from 9 to noon. All four days of morning workshops are followed by afternoon craft talks, publisher meetings, and language-based immersion activities. (https://wtpgathering.org/)
Facilitator Beth Piatote is a Nez Perce writer and Indigenous language activist. Her mixed-genre collection, The Beadworkers: Stories (Counterpoint 2019), was long-listed for the Aspen Words Literary Prize and the PEN/Bingham Prize, and short-listed for the California Independent Booksellers Association "Golden Poppy" Prize for Fiction. She is the author of numerous plays, short stories, and essays, and is currently completing a poetry collection, Nez Perce Word for Shark. She is a language activist and advocates for Indigenous language revitalization through creative expression. She holds a PhD from Stanford University and is an associate professor of English and Comparative Literature at the University of California, Berkeley.
This 2-day session is in-person in Tulsa, OK and live online. Participants will be awarded .6 CEU's for 6 hours via digital badge and PDF certificate.
For scholarships to attend in person go to https://wtpgathering.org/ for details.
Tuition:
$15.00
---
Class Length:
3 Weeks
---
Course Sections — Fall 2022
Chelsea Hicks

online

Day

Fri, Sat

Time

9:00 AM - 12:00 PM MT

Dates

Oct 28, 2022 to Oct 29, 2022